Classic, Program, Easy Form, Harness, and most PPs other than Formulator may be easily saved as PDF files, once selected. 

You will need to have Adobe Reader installed on your computer or mobile device in order to save and print your product. 

You can download or update your Adobe Reader on your computer or mobile device (at no cost) by clicking on the link below:

https://get.adobe.com/reader/

We are using our Classic format for the instructions, below.
You can find the format that works for you via the link below.  You can choose from Classic & Formulator, Timeform US, Daily Racing Program and more.  Once you determine which format you prefer (in this case, Classic), click on the green button below it, and select the plan that works best for you.  Once your purchase is completed, you can begin downloading PPs.


Go to the DRF.com homepage. 
Under the "Handicapping & PP's" menu, select "Classic and Formulator PP's" menu.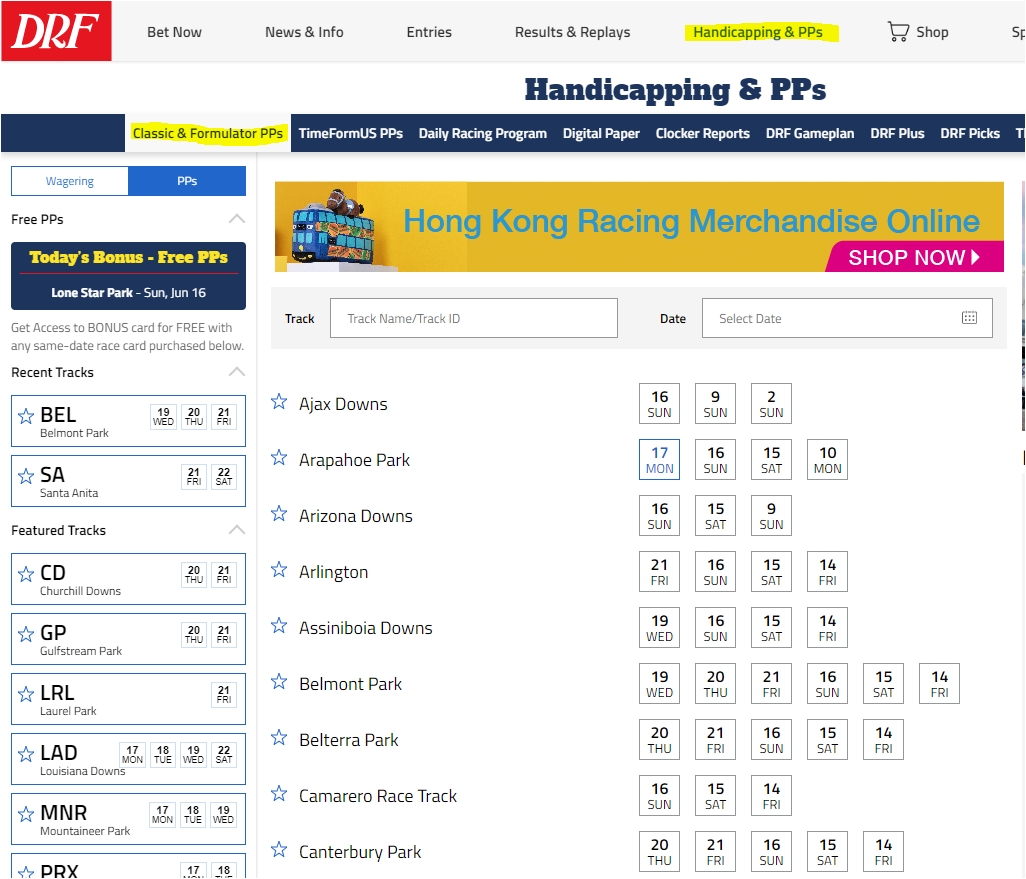 You should now be on the Classic Track and Date Selection Page.  See link and screenshot, below:


Select the PPs you want to download by clicking on the date posted to the right (facing) of the track listed.  For example, Finger Lakes 6/17.
You should now see the page with the PP's shown in the screenshot, below.  You will see your track and date at the top of the page.  Below that, you will see tabs you can click on to access  each race on the card.
Selecting "View/Print PP's" will bring up your entire card in the conventional Classic PDF format.  This will allow you to download, save as a pdf file, zoom, etc.
Select the icon with the downward pointing arrow to download your PPs as a PDF file.
You will be prompted to save your PPs as a PDF file, and you can then select the folder on your computer you would like to add the document to.  Once this file is saved, you can go back to this document and retrieve the PDF version of your PPs to print as per usual.