Account Setting Information:
Log into your DRF.com account:

Select "Account Settings" under the small gray circle at top right, with your initials in it.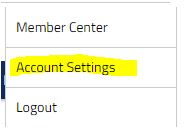 That will bring you to the page you need to update your account information. 
RECENT ACCOUNT SETTINGS CHANGES (PLEASE SEE BELOW, IN BOLD):
Please be aware that you can update your physical (street) address only via your Account Settings.  You will need to request to have Customer Service manually update your Email Address.  
You may do so by emailing us directly at CService2@drf.com.  We will process the update, and then email you with confirmation.
Recent (2018) purchase/order information is now sent via email to the email address on file, so please be sure to save your purchase confirmation emails if you wish to refer to them in the future, or for accounting purposes. 
See screenshot of the available options to click on, highlighted in yellow, below: