The most sophisticated proprietary handicapping software ever released, Formulator Web offers horseplayers unprecedented levels of flexibility, versatility and convenience while giving users the power to reformulate the raw data that is found in the print version of DRF to suit individual handicapping and personal preferences.
The following list provides an overview of the key features in Formulator:
Sibling Summary Report: The Sibling Summary report has been revamped. At the top of the report you will see the pedigree chart of the current entry and links to view their PPs. Scroll down and you will see the statistics have been expanded to include more categories such as turf route and turf sprints as well as synthetic. You can also filter for "Off-Track" statistics.
Note: PPs for horses prior to 1990 are not available.


Sire Snapshot View: Click on the name of the sire in any PP to load the new Sire Snapshot view . You will see performance of a sire's foals across a series of data sets that match the conditions of the current race. For example, a maiden turf route race will show the following categories of data sets: Overall, Turf, Turf Route, and Maiden. Pay close attention to the "Standout Foals" for each condition – this tells you if the sire is producing superstars at these conditions.

Sire Pattern: From within the Sire Snapshot, click on any sire name to load that sire's "Sire Pattern" page. This page will go into further detail for the sire's race record as well that of all his foals, which are listed at the bottom of the page. Click on any foal name to load its individual PP. At the top of the page is an "OFF-TRACK" filter that will display the sire's stats on off-track conditions.

Inclusion of Video Replays – With Formulator Web, you can view unlimited Video Race Replays within the Formulator Web Past Performances. Video Race are accessible by clicking the "comment line" on any applicable running line. This is on the far right side of the Past Performance.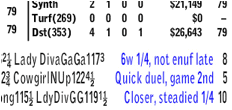 NOTE: Links to the video replays have been added within the Race Charts so that you can watch the race while scanning the chart.

Trainer Patterns - When handicapping a race, it is very useful to investigate a trainer's history in a similar race. For example, does the trainer excel in cheap claiming races? To find out, click on a trainer's name, which will be highlighted in blue text. Formulator Web displays the entirety of the trainers training records, providing both the trainer's statistics and the actual Performance Profiles for the individual horses queried.
This powerful feature enables you to perform in-depth analyses of a trainer's patterns. You can create custom queries about a specific trainer history and tendencies, and view both summary level and detailed results for the query. You can also browse through the Past Performances of all the horses in a trainer's stable, and use filters to isolate specific horses and to identify patterns.
Race Chart Views - You can display  and print a variety of DRF Race Charts for a specific race. From any horse's past performance, you can display the result charts from all of that horse's previous races since 2007. Formulator Web not only displays the traditional results chart for that race, but also provides several viewing options for the information.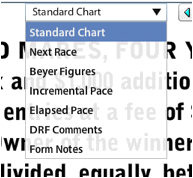 Filter Past Performances – Formulator Web allows you to view the past performances the way you want to view them. For example, you can toggle on and off between Closer Looks and Company Lines. You can merge workouts and notes into your PPs. You can scratch and hide horses, show times in fifths or hundredths, show incremental splits or individual horse times.
You can also view lifetime past performances, or choose to see just a set number of previous running lines. You can also easily adjust the size of the past performances and charts to fit your computer screen.
Inclusion of Timeform US Pace Figures – With Formulator Web, you can view TFUS Pace Figures (where available) within the Formulator Web Past Performances. 
TicketMaker – - A program which allows you to construct Pick 3, Pick 4, Pick 5 and Pick 6 tickets using the structural strategies described in Steven Crist's "Exotic Betting" book. You pick the horses you like, twist a few knobs, and Formulator creates the tickets for you. Once your tickets are ready, submit them all with just one click with DRF Bets. Access TicketMaker from the top right menu on Formulator. Additionally, look out for a new version of TicketMaker that expands the bet types to Exactas, Trifectas and Superfectas and makes TicketMaker accessible on all mobile devices and tablets.