Please be aware that most multi card PP plans, Digital Form, Wizard monthly and Plus plans do automatically renew whenever newly purchased or repurchased.
Promotional-priced plans and introductory offers renew at regular retail price.


 Unused cards expire when your plan does, and do not carry over once the expiration date has passed.
 
Purchasing a second DRF.com plan does not disable auto renew for another plan.
If you wish to disable auto renew for any specific plan, please do so via the Member Center in your DRF.com account.
Log into your account, select "Member Center" from the drop down menu under your login name at the top right of your DRF.com homepage. Please see screenshots, below.
Un-check any checked box next to an active plan and a pop-up will appear informing you that the auto renew preference has been updated.
You may also e-mail us at cservice2@drf.com and request assistance with auto renewal settings.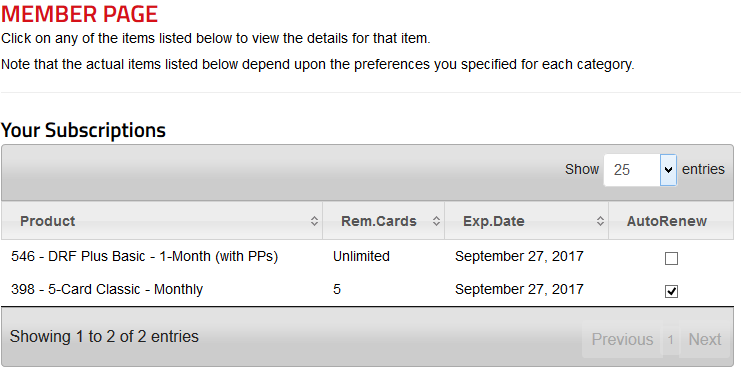 After you uncheck the box you will see this pop-up letting you know that the auto renew preference has been updated: